"The Batting Lab" SAS Brand Activation
Over half of American kids play baseball and softball. Less than half of them understand data. But, unfortunately, while less than 1% of them will go to play professional ball as a career, the ability to read, work with, and communicate using data will be the most in-demand job skill by 2030. So, to get kids ready for their most-likely future, SAS used their love of the game to secretly pitch them on data literacy with The Batting Lab.

A custom, AI-powered batting cage designed to track a batter's swing, body position, ball-flight statistics, and more to improve their swing while improving their understanding of data.

My Roles
Concept Development, Copywriting, Content Strategy, Messaging Design, User Experience Design, Creative Direction

Project Recognition
CBS,
The Today Show
,
Muse by Clio
,
Adweek Ad of the Day
,
Shots Ad of the Day
,
LBB Online
How the Cage Worked
The Batting Lab was the first-of-its-kind to turn player data into real-time coaching instruction. It was able to do this by using cameras, sensors, AI, computer vision, and IoT analytics to ultimately collect over 50,000 data points per hit. It would, then, provide instant feedback and suggestions on how to improve each kid's swing, and more in-depth feedback at the end of every session—allowing the kids to explore their data.
How the Program Worked
The program consisted of twelve, 30-45 minute, interactive sessions. Six instructional ones that walked the kids through the six swing segments, and six free swings that allowed them to analyze and interpret the data for themselves.
I was in charge of writing, editing, and tracking all twelve, as well as organizing the content strategy. Below is an example of one of those sessions.
What Happened
By the end of the program, the kids were able to look at the data and pinpoint areas for improvement and growth. So, not only did every single kid improve their swing, they also improved their understanding of data.
Drew's Swing
Session 1


Session 12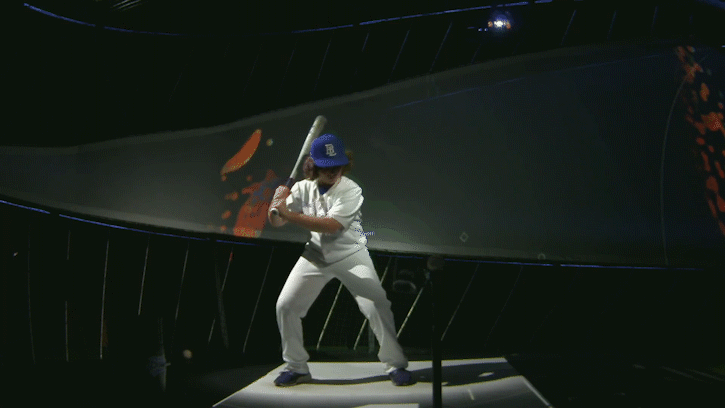 Drew's Swing Analysis
Session 1
Session 12

Maddie's Swing
Session 1

Session 12
Maddie's Swing Analysis
Session 1
Session 12
How It Extended
Because the program was only made for a lucky few, we extended the program online in the form of a free educational tool for parents and guardians.
Below is just an example of one of the sections. See the whole thing
here
. The beautiful art direction/design are by
Gabby Gonzaga
and well-crafted words are by
Kayla Andersen
.